Since Mekong Modelling Associates was established in early 2014, we have been providing high-level technical expertise in all areas of rivers and water management in the rapidly developing ASEAN region. We are part owned by JBA, one of the leading specialists in water and environment in the UK. Our staff have specific skills in climate, hydrology, hydraulics, sediment movement, water quality in the river, estuary and coastal environment.
Our Aim & Commitments
We take sound modelling expertise through to social and economic planning to aid decision making. We aim to exceed expectations and provide our valued clients with the necessary information to positively support water resources and the people dependent on them, particularly in the Mekong basin. We are committed to bringing a new level of high quality service whilst building up the local expertise to support sustainable management of the water resources and aid the adaptation to climate change. We are fully committed to minimising our impact on the environment both locally and globally through our practices and our actions. We aim to track our carbon impact and mitigate and ameliorate wherever possible.
Our Key Staff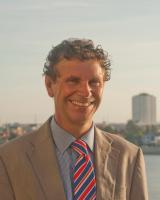 Dr Anthony Green
Managing Director & Principal Consultant
Tony has more than 30 years' specialist experience working on river and water management projects in Argentina, Bangladesh, Belize, Cambodia, India, Laos, Pakistan, Philippines Thailand, UK and Vietnam. He completed his PhD in sedimentation transportation and has specialist environmental skills and interests including geomorphological assessments, sediment and nutrient modelling and hydrodynamic scour.
Tony has managed and been senior modeller on numerous flood projects, hydraulic analysis of hydropower, water networks and major water treatment works. He has also prepared terms of reference for flood and environmental studies and been manager and team leader for many international projects, catchment flood plans, planning and water resource studies.
Tony has been based in Cambodia since 2001 and worked as the Senior International Modelling Advisor and Chief Technical Advisor for Climate Change and Adaptation for Mekong River Commission. He established Mekong Modelling Associates in conjunction with JBA in 2014 and has since worked on a number of projects throughout Asia and is well-known for his local expertise.